Millennium® Gallery Of Living Art – Fort Collins, Colorado Tim Corley, Heide Unger, Suzanne Unger and Ryan Corley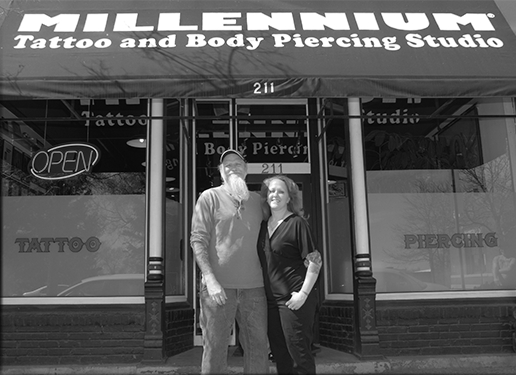 The story of Millennium; A family that tattoos together, stays together – By Heide Unger
My husband Tim Corley started tattooing in 1990, as an apprentice under Steve Swanton, at Majestic Tattoo in Fort Collins, Colorado. Tim was taught all the technical aspects of tattooing (stencil making, needle building, etc.) as well as fine line and color techniques. In 1993 he became co-owner of Majestic and also ventured into the realm of body piercing, which was just taking off in the mainstream. This is when I began my time as an unknowing apprentice, by helping around the shop and Tim while he was tattooing.
In 1994, wanting to branch out, learn more and be more active in the tattooing community, he and I became members of the Alliance of Professional Tattooists.
Yearning to have a more professional environment, we decided to open our own studio. On August 15, 1995, with the help of our good friend and mentor, Sister Bear, the 3 of us opened Millennium® Gallery of Living Art in Fort Collins, Colorado. Thus, beginning my full-time career as a bonafide tattooer. A year later Sister Bear, having forgotten the rigors of shop ownership, sold us her share.
In 1995, Tim and I started going to North American Tattoo conventions and began traveling overseas shortly thereafter. We spent the better part of a decade traveling to conventions. We've tattooed in Belfast (Northern Ireland), Dublin (Ireland), Dunstable and Manchester (England), Oslo (Norway), and Frankfurt, Wesel and Berlin (Germany). We have also tattooed at over 100 conventions and rallies in the United States. In 1996, we became proud members of the National Tattoo Association and served as Security Directors and Board Members for the convention for 10 years. Tim spent years as the Treasurer, Board Member and Committee Chair for the Alliance of Professional Tattooists. We both tattooed for Sugar Bear at the Sturgis Tattoo Company during Sturgis Motorcycle Rally for many years. Tim worked the rally for 20 consecutive years, since 1991. Our tattoo work has been featured in numerous magazines, including one of Tim's on the cover of TATTOO magazine. We have won numerous awards around the world for Best Tattoo Studio, Best Color Back Piece, Best Black and Grey Back Piece, Best Cover-up, Best Overall Male, Best Overall Female and Best Sleeve. I taught seminars on Cover-ups and Fix-ups and Tim taught classes on old-school pigment mixing, history of and the making of acetate stencil at conventions across the USA, and at the NTA and APT conventions. Tim has a deep love and reverence for the history of tattoo and the people who paved the way for us.
In 1997, my mom Suzanne Unger, began apprenticing with me and Tim. Before tattooing she was a designer/illustrator for publications, stage and lighting designer for theatre, rigging and lighting for stadium rock and roll shows and pyrotechnics and special effects for movies. After a long and grueling week working a Rolling Stones show she was exhausted and beat up. We suggested that she learn to tattoo so she could make it into her older years with a career she could handle physically. Suzanne tattooed at the Women's Convention for many years as a mother/daughter team with me and worked the booth many times at National Tattoo Association Convention. She was a member of NTA and APT. She won numerous awards for Black and Grey and won 1st place for Black and Grey Flash at the 2007 Women's Convention. In 2018, after tattooing for 20 years, she suffered congestive heart failure and needed to retire from tattooing. Her loyal clientele, which have become lifelong friends, were very sad to see her retire.
Our daughter, Ryan Corley, has grown up in the business. She has been a professional body piercer since 2000, starting at the age of 16. After the Columbine shootings, Tim and I decided to pull her out of public school, home school her and put her to work at the shop. She has been tattooing full time since 2003. She apprenticed under her dad Tim for both. Ryan and her tattoos have appeared in several magazines. At the 2006 Women's convention, Ryan participated, along with me and grandma Suz, in tattooing Bald Bill in his quest to be "tattooed by the most women artists in one day" for the Guinness Book of World Records. She is a gifted and "natural" tattooist and our senior piercer. Ryan is our Master Piercer and trainer, Safety Coordinator and OSHA Compliance person for our studio. She spent years as an instructor of the Prevention of Disease Transmission Seminar for the Alliance of Professional Tattooists. She has won numerous National awards for Best Traditional and Best Black and Grey.
During all our adventures, we opened two other locations to accommodate our growing staff and provide them a space to tattoo and opportunities for travel. We opened our 2nd Millennium® location in Greeley, Colorado in 1997 and stayed open until October 2, 2022. In 1999 we opened and operated a successful overseas shop in Worcester, England. With our growing family and the hassles of travel after 9-11, we decided the commute to England and the artist exchange program we had was too much for us to handle. So, in 2004 after five years in business, we closed.
With all its challenges and blessings, working, playing and traveling with my husband and family for 30 years has been one of the biggest joys in my life. God had made this possible for us and it has been and will continue to be an amazing family journey. We can't imagine our life any other way!
We pride ourselves on being a very professional, safe, courteous and ethical tattooers. All of us are Red Cross, CPR and APT – Prevention of Disease Transmission in Tattooing trained. Everyone in our Tattoo family has a reverent respect for the history and traditions of tattooing. We are grateful to the amazing clients, some of whom became family, for being part of our journey. Thank you for your continued support and loyalty to Millennium!